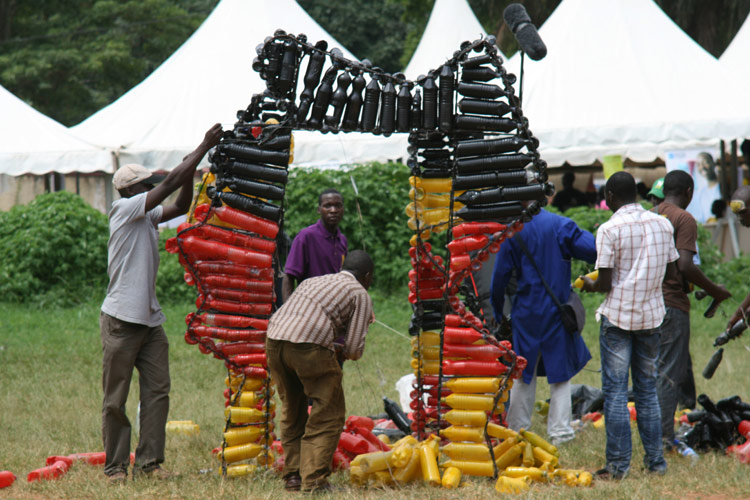 On 4th June 2011, more than 85 exhibitors as well as 200 performing artists from Uganda and East Africa came together to celebrate 365 … days of Art.
Each year provides 365 days to create something new; each day of the year can be a challenge — and gives the opportunity for success! Thinking along these lines, artists incorporated this year's motto in their Installations, performances and Paintings. Thus, they showed different approaches to art in everyday life. Creativity, struggle and success all belong together.
The story of the LaBa! is a story of Art's success. Starting in 2007 with the slogan Pot in the Hole – a tribute to the then numerous potholes on Bukoto Street — artists and spectators were invited to transform the concrete into art; playfully, artistically and colorfully.
The 5th LaBa! featured more artists and performances than ever before. An enormous creative community of painters, sculptors, fashion and jewellery designers, dancers, photographers, actors and musicians turned Mackinnon Road into an open-air-art-space of creativity. Everyone was invited not only to see but to participate.The Language without Borders tent for the first time approached cultural diversity through the learning of languages. Embassies from all over the world each presented a language native to their culture.
At sunset the garden side of Goethe-Zentrum was the place to enjoy the best of contemporary Uganda's Music scene. Artists Lillian (Blue3) and the Sundowners, Mista Poa, Carl Joshua Ncube from Zimbabwe contributed to a delightful evening.
Art presents an opportunity for everyone to express themselves and their concerns – and it empowers people to follow their own ideas. The LaBa! wants to encourage people to get involved with – and experience Art.
Impressions from the 5th LaBa