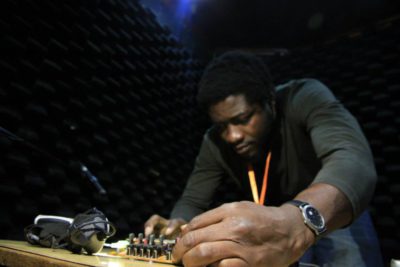 Facilitated by Jonas Hummel, a German sound technician and musician, the GZK/UGCS organized a 10 day workshop leading to the 7th Bayimba international Festival of the Arts. In those 10 days 9 participants from 5 different countries (Uganda, Kenya, Ghana, Tanzania and Germany) met to create new music instruments out of old electronic devices. The electronic scrap consisted of things like old computer keyboards, radios, CD players, sound cards, and a variety of different cables and much more – even an Adungo (a Ugandan traditional harp like instrument) was re-used.
How can those common, but also useless electronic devices be brought back to life, or even transformed into music instruments or – even more – used to compose and rehearse music pieces? And that in only 10 days? With a lot of creativity, devotion, a good mixture of electronic and musical understanding and the right set of tools. And with Jonas Hummel, who is co-founder of the "translokales Rundfunkorchester" (TRFO), an ensemble based in Düsseldorf that works with manipulated radios. He not only came with a big bag full of electronic devices of all kinds, he also initiated the participants into a field that none of them had known before.
After an introduction into the theoretic basics the participants discussed what music actually meant to them. In a mixture of physics lessons, sound examples and a lot of practical crafting the devices brought partially from Germany and partially sourced locally were dissected, inspected and re-connected with different wires and 9 V batteries. Self made speakers and the first sounds were the result. To assure that the sounds remain exact and could be reproduced for music pieces cables and complicated electronic circuits had to be connected to the sound sources. Instead of buying speakers to amplify the instruments on stage they were crafted out of different electronic materials. Connected to the modified radios, CD players and all the other devices those self-made speakers became hybrid instruments.
As diverse as the hybrid instruments were the workshop participants. The different professional backgrounds – musicians, creative designers, DJs, music producers and artists, even electricians and IT-specialists – and the different ideas of music itself and creating music had to be put together.
Next to the live performances during the festival there was a studio recording with the DJs of Santuri Safari, a project that puts DJs and musicians together to create unique tracks in studio.

"Your Radio, your Voice, your Instrument" performed on the Upper Garden Stage of the National Theatre on three evenings during the Bayimba Festival. Next to the musical performance the audience was invited to try out those hybrid instruments themselves.We would like to take the opportunity to thank the Bayimba Foundation, the German Embassy to Uganda, Santuri Safari and Hivos for their support and collaboration. Without them the project would not have been possible.And of course we would like to thank the participants: Jonas Hummel, Semeko Kumade, Timothy Nabulwa, Virgil Acheta, Gisa Brian, Ken Mvvalye, Jimmy John Ogwang, Ryan M. Njumwa, Munir Suat and Nicole Schnathmann.