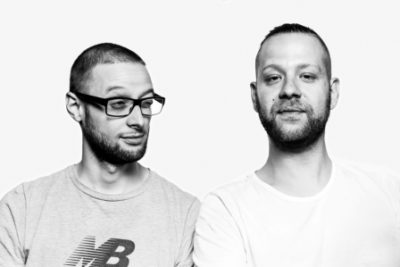 Schlachthofbronx is a DJ Duo from Munich producing and playing innovative club music. On 16th May, they played a show with various Ugandan DJs in an empty warehouse. On Saturday 16th May, Goethe-Zentrum Kampala/UGCS organized an event so full of internationally minded as well as locally influenced music that was just right for the taste of the Ugandan night folk.
On Saturday 16th May, Goethe-Zentrum Kampala/UGCS organized an event so full of internationally minded as well as locally influenced music that was just right for the taste of the Ugandan night folk. SCHLACHTHOFBRONX came to visit the city and stir the night up with their innovative mix of styles.Schlachthofbronx, is the unofficial name of their district in Munich, Germany. With a smirk Benedikt admits that when children used to call this name that it really used to be funny. Their sense of humor and their relaxed way of dealing with any kind of environment is surely a bonus in their constant travels around the world. However, the DJ-Duo says that the concept of their music was never made to remain local; influenced by all kinds of genres and people the two started deejaying at the ages of 12 and 14 and remember back to the times of Myspace, when people all over the world started inviting them to play. "From there it just happened", Jakob says. Their international success is related to the fact that they committed to producing and mainly playing "their own stuff", which makes them unique as well as unpredictable musically. "In Europe you have to produce yourself to be successful". A night with those two on stage promises to be fun. They both love what they do and show it by actively participating in the party when on stage. "I believe when people see how much we really enjoy this it washes over them too."The variety of musical styles on stage, from Reggae to Hip-Hop and traditional African percussions, reflects the diversity of the people dancing to the tunes. Many known faces are skimming through; having come out for an event that is special in Kampala city. Some of Uganda's known B-girls and -boys are showing their skills in a spontaneous cypher on the dance floor while outside someone is spraying graffiti on the wall.
The main act of the night, the guys from Schlachthofbronx, is mingling with the people around the stage. In seemingly similar enthusiasm they are videotaping the other acts as well as their audience.At promptly 1:00pm the lights go off, the music stops and a voice resonates through the microphone: "How are you doing tonight?" The crowd responds as if with one gigantic voice in a shout. The music starts as the two DJs finally put their hands to their equipment. Light effects make the room sparkle and absolutely everybody starts jumping. "I want everybody's hands up", it echoes through the hall and everybody's hands go up. It's like someone just flipped a switch and turned this laid-back party into a boiling cauldron. The volume rises, everybody who's been standing outside seems to be rushing in, you can feel your heartbeat synchronize with the promised mix of Dancehall/Reggae, Hip-Hop, Booty Bass, Techno, Cumbia, UK Bass and many more. The party has begun and won't stop until almost sunrise.
Only a few hours after said sunrise occurred Benedikt and Jakob stroll into the foyer of the National Theatre Kampala and sit down at the bar. They have come to conduct a workshop with a number of Ugandan artists this afternoon before they head off to their next destination: Nairobi.
While waiting for the workshop participants they recollect their experiences in Kampala with a contented and slightly exhausted demeanor concluding that the people here have been really friendly and much less distanced than they have experienced in other cities. They particularly enjoy the memory of having tattooed (they carry washable tattoo stickers with their logo around with them) most of the audience last night.
In preparation for their workshop they reminisce on their favorite aspects and most important habits of a DJ's life. "Travel experience", contents Benedikt and in unison they both add "food" as their favorite parts of their job. In that regard Jakob remembers that he still has to eat Rolex before he leaves.
To young people acquiring a career in their footsteps the two agree: "Keep going! Think bigger than is realistic and work for it. Never forget to put style above success – stay true to yourself." And "It really doesn't matter what you have or what you don't have as long as you do your best with it."
With these wise words they welcome the eight participants of their workshop at the recording studio at National Theatre for a session of collaboration and creative work. The theme of the workshop is open and so is the outcome. Benedikt is of the view that a really good musical piece of completion won't come out of the studio in less than five days. The participants, however, seem not only to agree, but to be eager to make this afternoon a time of sharing, learning from each other and building networks for the future.Schlachthofbronx is currently traveling the globe. To their own account one third of their gigs are within Germany, another third within Europe and the rest in areas beyond that. The two released an album available on raveandromance.com.
© Christin Figueira