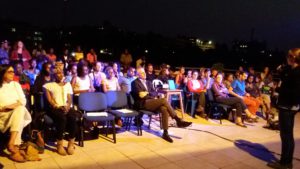 Anja Göbel, Director of Goethe-Zentrum Kampala, giving an introductory speech at opening of the Ngalabi Short Film Festival held at Goethe -Zentrum rooftop.
"Unlike all the other art forms, film is able to seize and render the passage of time, to stop it, almost to possess it in infinity. I'd say that film is the sculpting of time." – Andrei Tarkovsky.
Ngalabi Short Film Festival was a joint initiative of Goethe-Zentrum Kampala and Maisha Film Lab. The first edition of the festival took place from 3rd to 5th February 2017 at the Goethe-Zentrum Kampala. The festival gave the audience the opportunity to see international Short Films with a focus on (East-) Africa as well as meet some of the film makers. Thematically, the festival was divided into three programmes: "Of Cities and People", "Me and Them" as well as a Short Film programme from the German competition from the International Short Film Festival Oberhausen 2016. On Friday, 3rd February, the programme "Of Cities and People" was shown at the opening of the festival in the presence of the German Ambassador and Mira Nair with a Q&A afterwards. The programme consisted of seven Short Films from East-Africa and Tunisia. The Q&A was attended by the present filmmakers and producers Manuel Francis Eshitera (Isaiah, Kenya), David Kinyanjui (Zawadi, Kenya), George Stanley Nsamba (Silent Depression, Uganda)  and Marie ("Jethro x Jethro", Uganda). On Saturday, 4th February, we showed the programme Me and Them with five Short Films from East-Africa. Afterwards Hiwot Admasu New Eyes, Ethopia, Clementine Dusabejambo A Place for Myself, Rwanda and Waheeda Green Chebet, Uganda were there for answering questions about their films. On Sunday, 5th February, we showed the German Short Film programme from Oberhausen with a previous longer introduction from Anja Göbel. To ensure a professional and technical exchange, we held a roundtable as well as an Art Forum. The main focus of the Roundtable for Ugandan filmmakers and Maishi Alumnis on Friday afternoon were the films and professional experiences of two of our guests: Rwandan filmmaker Marie Clementine Dusajembo and the Kenyan filmmaker David Kinyanjui. The Short Films of the two were watched jointly and discussed afterwards with questions about production, distribution and festival-evaluation.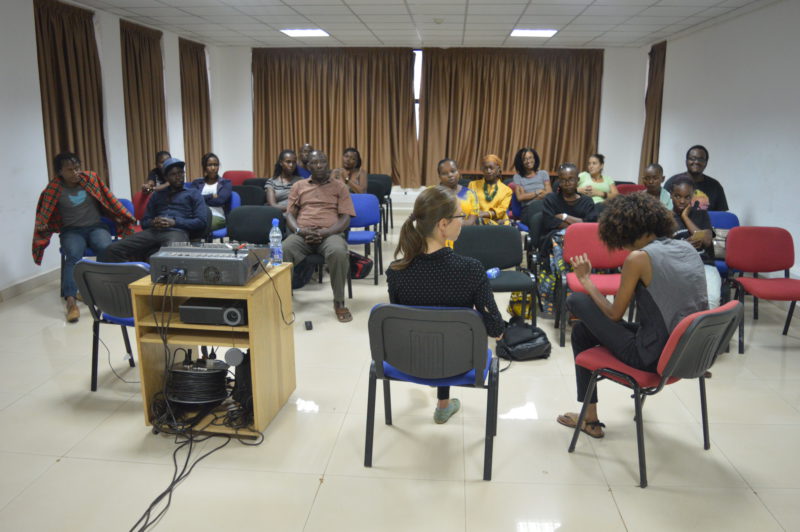 The Art Forum on Saturday afternoon with Hiwot Admasu (Ethiopian filmmaker), Peter Genza (Ugandan curator), Violet Nantume (Ugandan curator) and Rebecca Rwakabukoza (Ugandan feminist) had its topic on "Nudity & Body Politics" on the occasion of Hiwot Admasus film "New Eyes".
Meeting between Ngalabi Short Film Festival organizers and some of the participating film makers held at Maisha Gardens in Buziga