Music & Digital Technologies: Music Production and Recording Workshop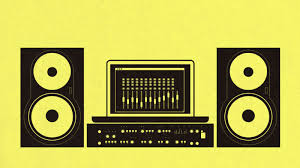 The impact of technology on the creation and the spread of music in and out of Africa has been recognized and well documented, yet the tools it encompasses are not always used to their full potential. The workshop Music & Digital Technologies: Music Production and Recording was therefore focussing on the possibility of using machines in innovative ways in order to express originality and depth.
During the first session facilitator Alai K. gave practical demonstrations and hands-on insight into recording traditional instruments. For this session a musician was present to play in the instruments to be recorded. In the following sessions on music production, these recordings were used as samples.
The second session gave an overview on available modern production tools, such as production software, hardware and main production techniques as well as of current African music landscapes. These included the role and place of pop music vs niche/ alternative scenes, including folklore and its modern manifestations. Participants explored techniques of how to use machines to express originality and depth on the one hand and a more uniform sound on the other hand (autotune, compression and sound quality, song writing and song structure). Following up on the previous section, participants were guided into sharpening basic production techniques. Together with the facilitators, participants also looked into creative roles of artists and producers, how to get the best out of this interaction, especially in terms of differentiation. An important question to be tackled eventually was how these blocks fit in with local sounds, traditions, and public expectations.
Facilitators of the Workshop
Alai K.
Alai K is a Kenyan music producer, musician, songwriter, and the creator of Disco Vumbi. He has been part of the Kenyan music industry since 1995, starting out with the Hip Hop collective Ukoo Flani and afterwards pursuing his solo career as a singer and songwriter. Later on he ventured into music production and that is when Disco Vumbi emerged. The name Disco Vumbi refers to a saying from the 1970s when people would go out to a dance in the streets and came home covered in dust (Kiswahili: vumbi). His musical style is inspired by East African music from the 1950s to 1990s and mixes traditional and modern instruments that feature Mijikenda (Bantu people at the Kenyan coast), Chakacha and Benga rhythms. Alai K produced the first EP "Boutiq Electroniq" of Kampala based label Nyege Nyege Tapes that was released in January 2017. The EP features the Ugandan instrumentalists Martin Juicy Fonkodi and the Nilotica Drum Ensemble and was sold out two weeks after its release.
Alai K is well experienced in collaborating with international musicians and producers. Between 2009 and 2010 he was part of BLNRB, a collaborative project by Goethe-Institut Kenya and Gebrüder Teichmann. Musicians and producers from Berlin and Nairobi such as Jahcoozi, Modeselektor, Ukoo Flani, Nazizi, and Just A Band lived, produced and performed together in Nairobi and Berlin. In 2016, Alai K worked together with Santuri East Africa on a project called "Bridging the Gap" as artist coordinator and producer. He assisted Emile Hoogenhout (aka Behr) from South Africa with his recording of traditional East African instruments that were eventually developed into the unique Ableton Live Racks.
Benjamin Lebrave
Benjamin is the CEO of Akwaaba Music, an Accra based label and agency connecting African artists with global audiences and opportunities. Akwaaba's work places Benjamin at the nexus of the Ghanaian music industry and the global music business. He has been living in Ghana for the past 6 years, and has traveled to 23 African countries to scout for artists, to perform as DJ BBRAVE, to take part in workshops and conferences, and more generally to collaborate with cultural institutions. As such Benjamin has hosted DJ workshops for the Institut Français du Burundi, Institut Français du Rwanda, and the Nafasi Art Space organization in Tanzania. Benjamin has also participated in panels at renowned music conferences such as WOMEX, Atlantic Music Expo, where he also took part in a one-on-one mentoring program. Recently Lebrave also founded the Power Play music symposium in Accra, which gathered a wide range of industry professionals, to provide much needed advice to artists and their teams. Benjamin is also a well-established DJ, having performed in over 40 countries across 4 continents, as the dance-floor ambassador for Akwaaba Music.
Michael Dela Gafatchi
Michael is one of the pioneers of Ghana's azonto sound, a dance and musical genre, which reached unprecedented global audiences in 2012. At home in Ghana, he has produced songs for some of the biggest names in the industry, including acclaimed artists Sarkodie, Samini, Edem, D-Black and countless others. More recently his electronic project Jowaa has seen him collaborating with international artists and media outlets, including influential Lisbon-based label Enchufada, and equally influential London-based BBC 1xtra and NTS radios. Michael has intimate knowledge of FL Studio and Cubase, the most widespread music production software in most of Africa. Using these tools, he has become an expert at translating his vast rhythmic heritage into effective, yet highly localized beats for pop artists.
With Jowaa, Michael has taken a step away from the mainstream to come closer to his own musical aspiration. The project has also allowed him to go from studio to stage, an extremely rare feat for an African producer. Today Michael is able to carry his studio work to the stage, using Ableton Live along with affordable music controllers. By doing so, Michael goes full circle by taking the music back to its performing roots.