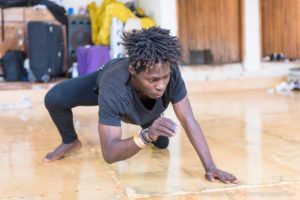 In July the GZK hosted the Tuzinne International Dance Festival, a platform for contemporary and traditional dance in East Africa, for the first time. Starting with an intense workshop for the participants, the event ended in a two day Dance Festival where artists from all over East Africa showed their skills. The festival took place under the motto 'Where Human Rights Dance'. One of the dancers who surely embodied this theme was the contemporary dancer Nduhira Athilai from Kampala. In his solo performance at GZK he mixed contemporary dance with traditional elements.
The theme of his performance was imagining who we are and where we are coming from. For our Artist Profiles we wanted to get to know the person behind the captivating performance, an active member of Kampala's dance scene and founder of the Contemporary Dance Project Uganda.
The theme of the performance at GZK was imagination. Where did you get the inspiration for this particular play from and what is it about?
After getting back from a performance in Tanzania I meet Ssenyonga Oscar Acogny, one of the founders of the Tuzinne International Dance Festival. He used to be my teacher when I was beginning as a dancer and he asked me to perform at his festival. The piece which I was performing on the East African Tour wasn't meant to be performed at Tuzinne Festival. Aaccording to the time that was given, it was too long. But in my mind I already had an idea about a new piece. So when I was in the studio I listened to the music I was playing and according to the movements that I was doing I thought about the progress we go through as human beings: Sometimes you sit down and you reflect on who you are, why your are here and where you are going. You ask yourself: Why am I doing this thing? And sometimes we have a lot of things from the past which are following us, some demons from the past which follow us as we are humans and we regret things which we were doing in life, you ask: Why did I do this? So I was making that piece called imagination mostly out of improvisation about these questions, I choreographed only for two weeks in the studio before the festival.
So at the beginning of the piece there is a moment when I sit down talking to myself, asking myself who am I, where I am coming from, where am I going. It was not in Luganda, it was in a language from Iteso. I was asking myself these questions while looking at the audience, but I was imagining a different world, where I am alone, where no one is close to me and I am lost, my soul, my mind is lost, but I am still figuring out to know who I am, what is my past, what is my future, what am I doing right now and where is it taking me. There is another part where I started hiding from my past and the things that are following me, the ghosts, the dead people, the people I wronged, the people I hurt, the people I never liked. So I was looking – I was moving into a world, a world of fear, a world of hate and a world with no love. So the piece was more about expressing this kind of life, I just did it and left it to the audience to imagine what I was doing. In my piece I was not only asking myself, but even the people who were watching it. They were questions which were going to everyone, it was a movement which would go to everyone, to the people who ask themselves these questions, who reflect on the future, the past, who they are and how to make it right. So it was more about imaginations.
How and why did you become a dancer?
I think that in all things in life we have what we call talent and education. For example Cristiano Ronaldo, he needed to become a football player, because it is in his blood, but still he has to do a lot of training to be good at it. For myself, I never realized that I will become a dance artist. But already when I was still in primary school I used to like dancing and I danced a lot, I used to be a karaoke dancer, I was dancing in church, in the community and on parties, I was so attracted by dancing in general. When I was in my final year in primary school, I got the position of being the MDD – the Music Dance and Drama prefect – and I really did much achievement in this year. I already realized there that according to my dance I wanted to do something more than everyone, I wanted to be unique and different from the others. So after my primary school there was a dance project called BPU – Breakdance Project Uganda -, where one of my friends took me, because I saw him dancing the Bboy style, which really impressed me. I learned some movements at BPU, but I realized that in dance you do not have to do what you cannot do, you don't have to force your body, you do what your body can do. So I couldn't fit in Bboying. And what I also realized in Bboying was that the people were all doing the same movements, like top lock, down lock, freezing and when you watch a performance of Bboying you expect top to see all kind of movements freezes, jumping, but for me, I did not want to be the same, so I went to a traditional training. In Nansana there was a community project which was called UPACT, were they taught Ugandan traditional dancing. I joined it, I was a student there for about one year and I got skills, but as I told you, I always wanted to be unique, I still felt like doing something different. I saw my first piece from the contemporary dancer and choreographer Qudus Onikeku, he is from Burkina Faso, but now he lives in France. He inspired me a lot with his contemporary dancing. So I started feeling it, I started going through those movements, his movements, my body was so free for that. I got an opportunity to study at theMambya Dance Company in Kampala, where I started achieving a lot. I also did a lot of workshops which really improved my professional dancing, like for example Disturb in Mwanza, or the few different workshops I did at Batalo Dance Lab Kampala. I learned from the different people around me, from different dance artists and I trained myself a lot in dancing, actually most of the dance styles, the techniques I know I taught them to myself. After a while I did my first piece at the Bayimba International Festival in Kampala, which is called 'The last time my father carried me' and the audience really liked it. So I kept on doing more performances in Uganda. By doing collaborations with different dance artists I established a platform as a dancer, because once you go into something deep, you get to know what to do, so I got to know what to do. I never wanted to be a dancer to earn money, because seriously, there is not much money in dancing, but what mostly inspired me to be a dancer was to communicate through dancing, to teach through dancing and to change peoples' lives through dancing. That is why I chose the African contemporary dancing, because it is the only way you could transform your idea, your story into dancing.
Is there a particular goal that you want to achieve with your dancing?
We have many kids, or many young people in Uganda, who are mostly into dancing, but they do not have an opportunity to know what dancing is about, they just do dancing. I have a small project which is called Hope for Street Kids Foundation where I teach different kinds of dances to the children, so I help them to improve their dancing. Also, my goal is to achieve on East African Dance Industry. In Africa, the only countries you talk about which have strong traditional and contemporary dance are for example Senegal, Burkina Faso, rather West African countries. So I want to achieve that in Uganda.
How did you get the idea that dancing could help street children and how is it helping them?
Sometimes dancing keeps them fit, sometimes it helps them survive, like me, I am surviving on dance most of the time. Dancing connects you with people, with friends, with the community. For me, I take dancing as something very big, as something that changed my whole life. And I would really like to see the same thing happen to some other people. That is why I started the project. Because of dancing I met people, people changed me, changed my destiny. I have made friends through dancing and because of them I gained a lot of things. I have inspired people, I have made people cry because of dancing, it is my way to communicate with people, to transform my ideas into communication.
Currently Nduhira Athilai Ismail is performing his new performance called 'Possessed' and is working on his new choreography called 'I am lost', which is a collaboration with Papscher Babu Nibabu from Congo.