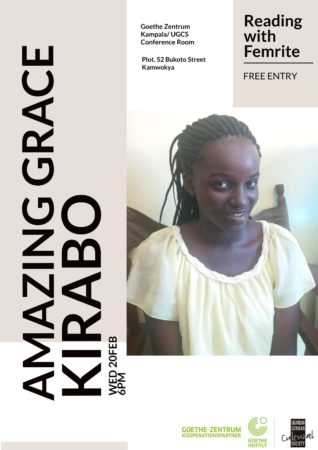 On February 20th 2019, Uganda Women Writers' Association (FEMRITE) held a reading at Goethe Zentrum Kampala/ UGCS Conference Room with the now 14-year old Amazing Grace Kirabo, who presented her book "Nurtured by a Blind Mother. The Courage to Believe", which was published during the time she was only 12 years old. Amazing Grace Kirabo is a self-taught guide to her blind mother, an author, caretaker of her two siblings and an artist. Through her passion for arts including painting, drawing pictures and writing, Amazing Grace developed a great talent which got support by her mother, the art director and founder of Mageizi Atrs Exhibition Centre. 
During the event Amazing Grace Kirabo has given an interview on more personal insights about the role of art in her life.
The book "Nurtured by a Blind Mother and the Courage to Believe", which she read passages from and answered questions about, is a motivational book and incredible story written by the at that time 12-year old, taking us into her life, how she coped after realizing her mother was visually impaired and where she got her inspiration from.
The Reading also gave an insight in her current work – the novel "Time for Escape", which will be published in May.
In an inspiring Q&A-Session with the audience, Amazing Grace Kirabo talked about Motivation and Determination behind her work, Inspiration and Encouragement for doing art, as well as about Creativity in a young age.
Goethe Zentrum Kampala holds a monthly reading with FEMRITE. Stay updated for upcoming events and projects on our Facebook Page: Goethe-Zentrum Kampala UGCS.