Skillz East Africa Final Dance Battles at Ndere Center
On Saturday, October 23rd 2021, Skillz East Africa (SEA)'s annual breaking Championships, dubbed as "The return of champions" featured top seeded breakers (Adults, youths and kids) from across the regions who once again stepped on the dance floor and competed for the prestigious breaking titles at the Joy Arena at the Ndere Cultural Centre. A total of 25 top seeded breakers took part in the prestigious competitions which featured both Bboy and Bgirl categories. The event also featured the launch of the Dance Box Studio (a digital dance platform rebuilding the dance scene in East Africa (https://www.instagram.com/enterthedancebox/) as well as welcome guest performances from various local Hip-hop artists and urban pop-up stalls by a series of urban fashion designers.
The Bboy 7 to smoke category consisted of 16 breakers with returning champions; Bboy Pencil ( Uganda Breaking Crew), Bboy Bossa Reneus ( Bboy City Africa Ambassador) and Bboy Abudi Mutumba (Tirupati Underground) , Wild cards; Bboy Ranj ( 3pm crew) , Bboy Farouk skool boy ( Bboy Force Crew ), Bboy Rash ( Barefoot crew) , Pit Power Ug, Bboy Twino ( Pista Center Uganda) Bboy Ndawula ( Uganda Breaking Crew) (Prelim selects; Bboy Language , Tyga ( Starface Camp) , Umar Al Wadada ( The creatives) , Bboy Kiwa ( Born to Dance crew), Bboy Denis ( Tirupati Undergroud).
The Bgirl top 8 category consisted of 8 Bgirls, Amina, Julianah, Peace (Uganda Breaking Crew), Zuu (Uganda Breaking Crew), Cleanne (Sweet Champs), Gizmo (Sweet Champs), Skylar (Sweet Champs) Sophie (Sweet Champs). After two hours of non-stop action of battle exchanges hosted by Minister Ras Benard Benzima and Bboy mocca and on the one and twos, Dee jay Bent and Dj Oki , Bboy Ndawula and Bgirl Amina were crowned champions 2021 in their battling categories respectively. The event also featured: A Call five on Five battle,Breakers from Northern Uganda and Central Uganda battled it out. Guest artists included: Abalibaawo HipHop Foundation, God's Talent Africa, Holy Dance Unit, Eric Sama and Lucky Zulu King Sadolin.
The Skillz East Africa Breaking Championships was proudly sponsored by: Goethe-Zentrum Kampala/ UGCS, Rhyme N Reason Foundation, Dance Box Studio, SSemah Filmz, ShopSKillz, Woowee.
Skillz East Africa (SEA)'s annual breaking competition demonstrates the uniqueness of a multi cross-cultural expression of dance across the different generations of female and male dancers in the Sub-Saharan African region. The competition is an embodiment of diversity as it is set to bring together breakers from various parts of the region to learn new skills, share experiences and exchange ideas on both the mental and physical growth of the art form.
Skillz East Africa (https://skillzeastafrica.com/) has been running for the last six years and continues to grow as grassroots Hip Hop event, and as communal platform, the competition features three major Breaking categories; 7 to smoke Bboy, top 8 Bgirl , Kids categories (10 -14), and Crew battles.
Written by Ricky Orenia, Founder and Director of Skillz East Africa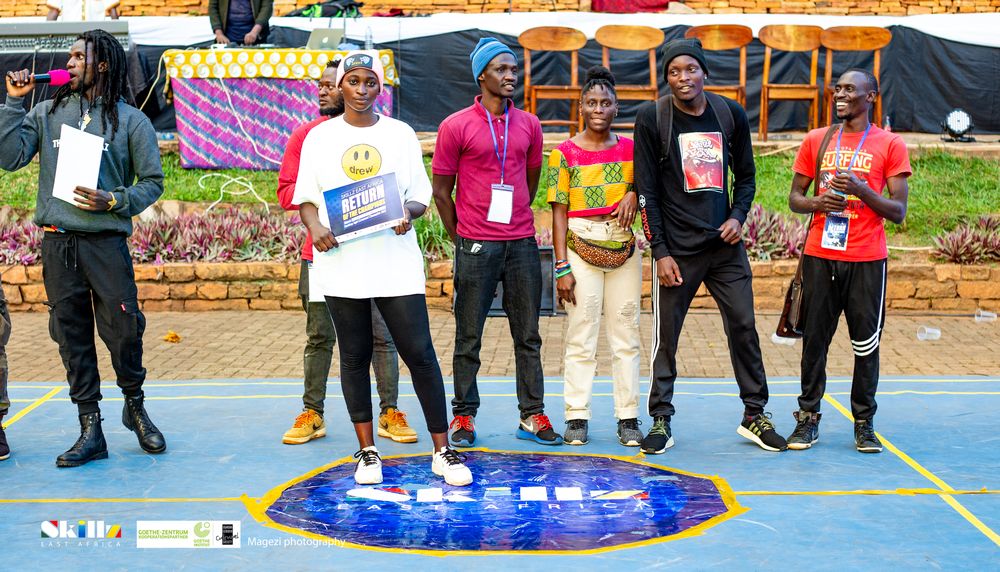 Since 2020, Skillz East Africa has become a close cooperation partner of Goethe-Zentrum Kampala/ UGCS. In May 2021, we hosted Skillz East Africa's Global Stance Workshop at our premises, an artistic collaboration workshop that brings together creatives of various art disciplines equipping them with both artistic and business skills to be able to build their "stances" as professional creatives. We were very happy to sponsor this year's Skillz East Africa Final Dance Battles at Ndere Center and to be part of this event experience.