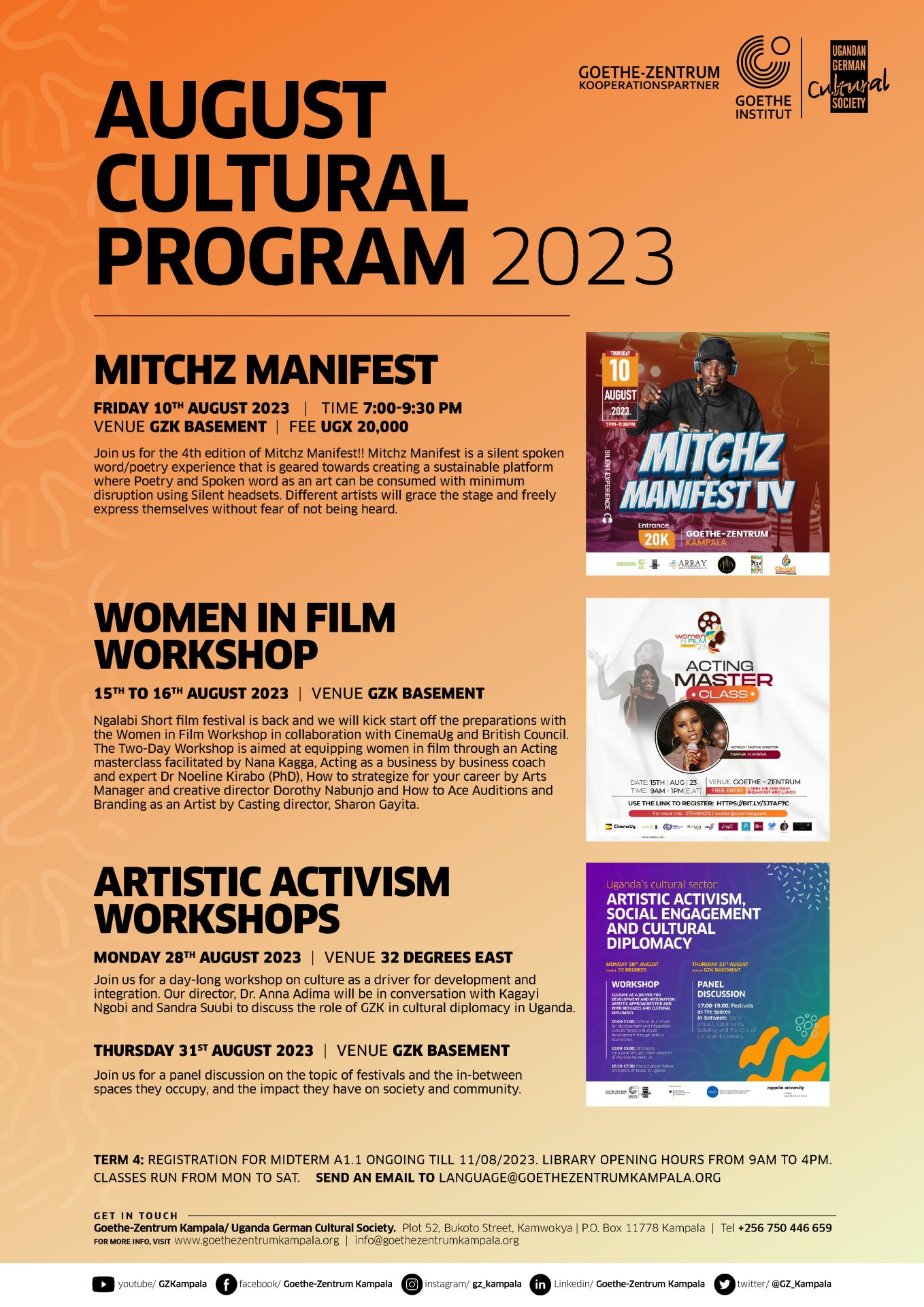 Mitchz Manifest
Friday 10 August 2023
7:00pm – 9:30pm
GZK Basement
UGX 20,000
Join us for the 4th edition of Mitchz Manifest!! Mitchz Manifest is a silent spoken word/poetry experience that is geared towards creating a sustainable platform where Poetry and Spoken words as an art can be consumed with minimum disruption using Silent headsets. Different artists will grace the stage and freely express themselves without fear of not being heard.
Women in Film Workshop
15th-16th August 2023
GZK Basement
Ngalabi Short Film Festival is back and we will kick start off the preparations with the Women in Film Workshop in collaboration with CinemaUg and British Council. The two-day workshop is aimed at equipping women in film through an Acting masterclass facilitated by Nana Kagga, Acting as a business by business coach and expert Dr Noeline Kirabo (PhD), How to strategize for your career by Arts Manager and creative director Dorothy Nabunjo and How to Ace Auditions and Branding as an Artist by Casting director, Sharon Gayita.
Artistic Activism Workshops
Monday 28th August 2023
3:30pm – 5:30pm
32 Degrees East
Free entry
Join us for a workshop on culture as a driver for development and integration. Our director, Dr. Anna Adima, will be in conversation with Kagayi Ngobi and Sandra Suubi to discuss the role of GZK in cultural diplomacy in Uganda.
Thursday 31st August 2023
5:00pm – 7:00pm
GZK Basement
Free Entry
Join us for a panel discussion on the topic of festivals and the in-between spaces they occupy, and they impact they have on society and community.