What is LaBa! Arts Festival?
The LaBa! Arts Festival was one of the oldest art festivals in Kampala, playing an important role in the culture and arts scene of the city. It was a multidisciplinary festival presenting recent trends in the arts scene.
LaBa! aimed to showcase artistic and musical expressions outside the usual spaces and conditions to reach out to new audiences. LaBa! was a platform that encouraged artistic encounters, as well as intellectual and playful dialogues between artists and their audiences. The last LaBa! Arts Festival took place in 2017.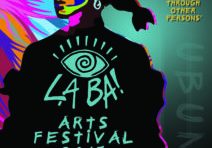 LaBa! 2017- Ubuntu
Art is for everyone! The 11th LaBa! Arts Festival themed Ubuntuwas back on Saturday 27th May, from 11:00am to 8:00pm on Bukoto Street, Kamwokya. The term Ubuntu in Shona, or Obumu in Luganda, means humanity or community spirit, which is best illustrated in the Ndebele proverb: "umuntu ngumuntu ngabantu" ("a person is a person through other persons").…