Bridge Works Art Camp and Performance: "Shades"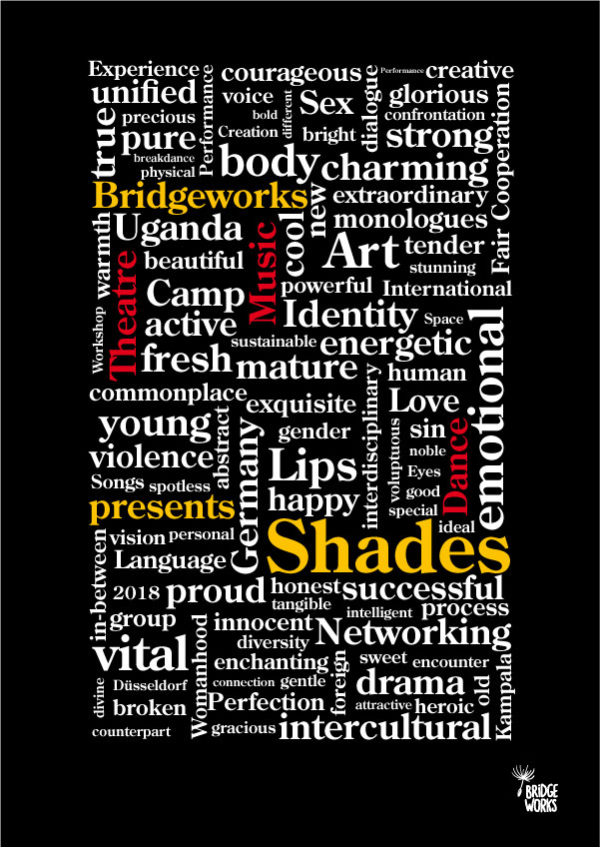 On the 23rd of February 2018, Goethe Zentrum Kampala/UGCS hosted the opening night of the interdisciplinary performance 'SHADES', an Ugandan – German cooperation that featured more than 20 actors, musicians, artists and dancers on stage.
On that evening, the audience was given the chance to witness some show excerpts and ask questions afterwards. In preparation of the performance, the participating artists, descending from Uganda and Germany, were engaged in an intercultural workshop series called 'Bridgeworks' Art Camp'. For a period of 14 days and together with their instructors, the members of the group have been examining social questions in creative ways, through acting, dance and music. 'Shades', the interdisciplinary performance that evolved from that process, focused on the meaning of 'Womanhood', a global topic that is relevant for everyone no matter the cultural context, the social background, the age or gender. The encounter of the participants with their own identity, culture and origin, triggered by the foreign culture as a critical counterpart, helped to discuss and reflect on individual assumptions, public beliefs and cultural narratives concerning the role of women in global societies. The result was a physical, poetical and emotionalizing show full of music, dance and theatre that was both entertaining and thought-provoking and last but not least mind-blowing.
Artists: Music: Kaz Kasozi & Peter Stöcklin Theatre: Adong Judith & Simon Eifeler Dance: Abramz Tekya & Johanna Heusser Producers: Ssebaggala Lwanga Andrew & Felix Banholzer Documentation: Patrick Waldmann Music Production: Sebastian Scheipers Performers: Tereka Desire Kenneth | Kifuko Moureen Drichiru | Guy Zziwa | Sebaggala Francis | Damalie Nassiwa | Prudence Nanyanzi Joan | Fred Mbalu | River Dan Rugaju | Jonathan Pius Mudhaasi | Pamela Keryeko | Tusingwire Joan | Patriq Nkakalukanyi | Natalie Warszewik | Konstantin Morfopoulos | Sebastian Kölbl | Asuka Riedl | Alexandra Lukas | Patrick Richardt | Teresa Zschernig |Sophia Hankings-Evans | Sarah Rieser