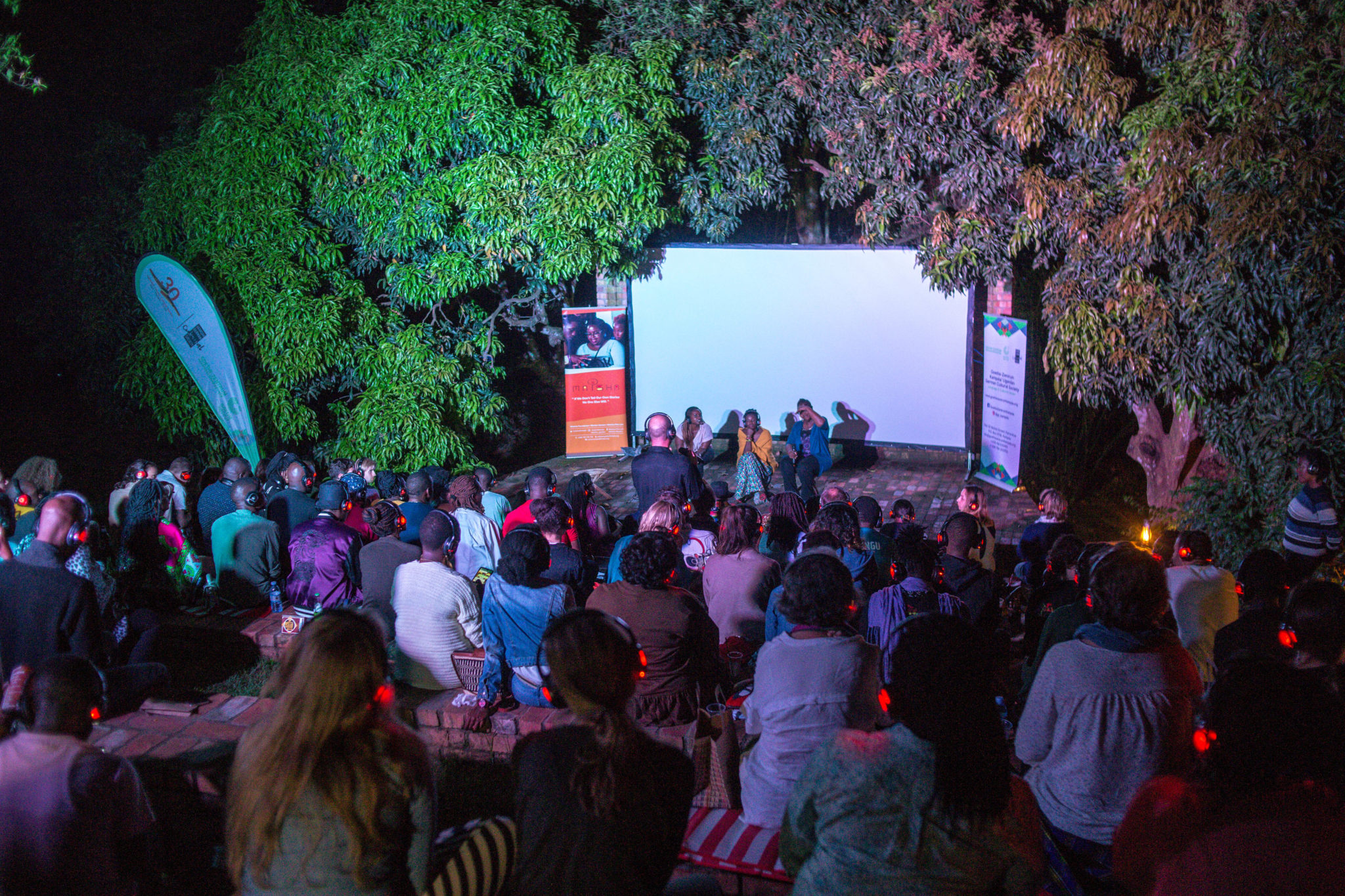 As Goethe-Zentrum Kampala, we were happy to celebrate the "Ngalabi Short Film Festival" with its 4th edition from Jan 31st to Feb 2nd 2020 at Maisha Garden.
We presented to the audience a selection of short films from the African continent, Germany, and Sweden for three days. As we have been growing more and more the last 3 editions, we changed the venue from the Goethe-Zentrum Rooftop to Maisha Garden in Buziga. The daily screenings were accompanied Q&A Sessions with selected filmmakers and directors from Uganda, moderated by Sharon Rwakatungu. We had cool music, cocktail, drinks and food vendors to create a lovely open-air cinema experience in a paradise-like garden atmosphere. Indeed, for the audience it was a feeling as if one is literally in paradise.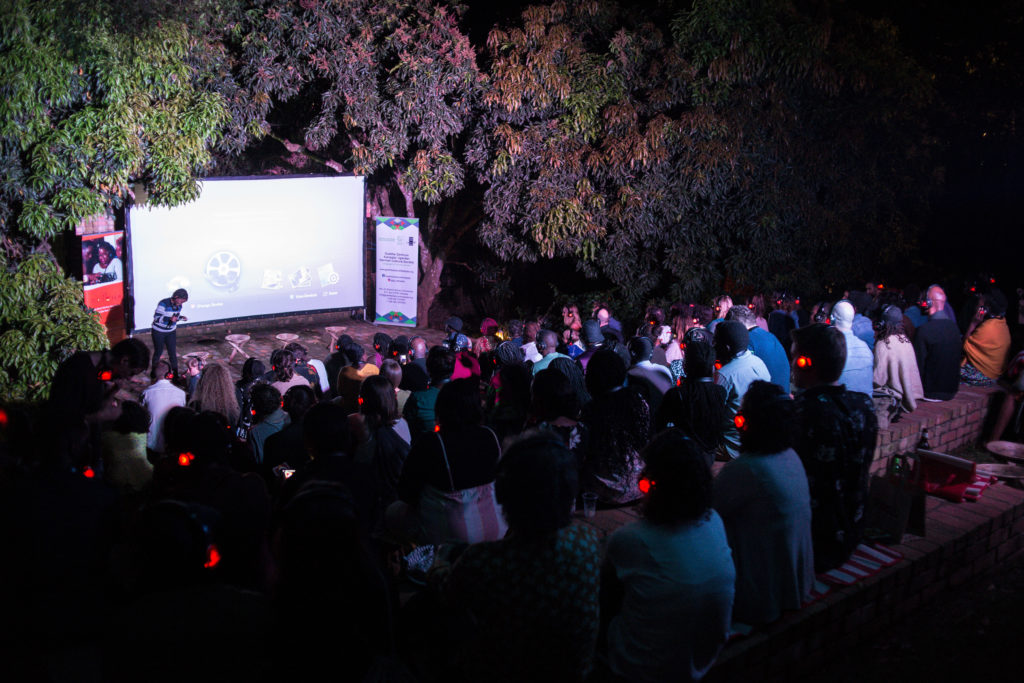 Ngalabi Short Film Festival 2020 is a cooperation of Goethe-Zentrum Kampala/ UGCS and Maisha Film Lab, Kampala Film School, Embassy of Sweden in Kampala, Filmboard Karlsruhe e. V., and Independent Days|Filmfest. We loved how everyone cooperated together to pull off this festival, starting from the Ngalabi team to the filmmakers, security guards, technicians and everyone who showed up. The engagement was a great support for the filmmakers, therefore the festival enabled a variety of insights to film lovers.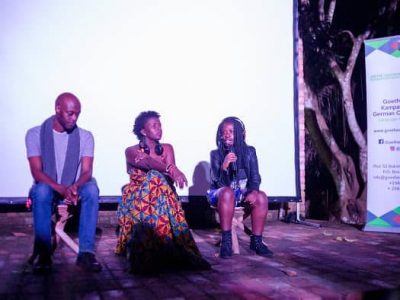 A creative booklet was produced that operated as a guide for the audience during the 3 three days of programme. The booklet included the movies and their directors and also the different days they would be screened. The movies that showed on Friday 31st were "Facing North", "The Better Option", "Communion", "Wakamba Forever", "Les Pastèques Du Cheikh", "Akoota" and "The Quarry". On Saturday 1st Feb, we screened "Miracle", "Millet", "The Burden", "Ogbanje", "Little Black Dress", "Zelten", "Black Head Cow", "Tab" and "Tithes And Offerings". Lastly on Sunday 2nd Feb, we screened "Mascarpone", "Family Tree", "Zombies", "Lay Lay", "Un Air De Kora", "The Culture" and "Brotherhood". The movies were all unique and had a sense of communication from culture to music to emotions. Another thing that made it exciting was the Q&A with the directors that came like Oprah Oyugi from Kenya, Patience Nitumwesiga from Uganda, Alex Maina from Kenya, Dilman Dila from Uganda, Lydia Matata from Kenya, Esteri Tebandeke from Uganda, Hlumela Matika from South Africa, Angella Emurwon from Uganda and Sam Tebandeke from Kenya. They were also asked different questions about their movies by the audience. Besides learning lessons from the screened movies, the directors got to share their views and perspectives on their creative pieces, coming from the audience the section of the films was very impressive. The setting was very relaxing; on both sides of the walk way light holders were set that lighted at night which made it romantic. The view was executed as we moved to where the audience sat, there were mats and stools for those that wanted to sit down. It was fantastic that the audience had a number of different sitting options, from stools to mats to the pedestal, some preferred to stand.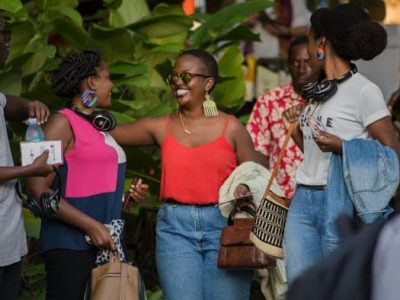 There was ticket selling at the entrance of Maisha Garden where we also gave out booklets for the whole programme. Each ticket went for 10,000 for each day, but we had an offer of "BUY TWO GET ONE FREE" the audience loved. The idea of the headsets instead of PA system (as it was a silent film festival) was embraced by everyone. Everyone got their own headset for the evening, which gave a completely new touch to the festival. People at the entrance with headsets could also hear what was being played from the main source and after the festival came to an end, there was some music being played, for some reason some people stayed long enough. When it came to food… It spoke for itself, we had different food vendors which made it interesting for the costumers to choose. We had the menus printed out and posted on our face book page to make our audience aware of what they can expect. Drinks were served by Simply Cocktails, whose menu had The Ngalabi Fizz, The Maisha Swirl Award, Kampala Filmschool Oscar, Goethe-Zentrum goes Hollywood and Swedish Guldbagge Mule… They used pineapples for every cocktail which was funky. The rolexes by ROLL KLA stood out! Their menu had The Delhi (spicy, vegetarian), The Bangkok (vegetarian), The Bologna (non-vegetarian), The Sonoma (non-vegetarian), The Kingston (non-vegetarian) and The Piedmont (sweet option). These rolexes came with a good packaging, and it was a delicious meal. There was also food by ISLAND BITES which had BBQ jerk chicken, glazed fish bites, potato wedges and a full plate. Coming to the snacks by Therence's kitchen and restaurant which had quite a number of tasty snacks, the menu included chicken BBQ, pork muchomo, meat balls, samosa, Asian tofu sticks, binis and hummus, smoked sausages and salads. To sum it up in regards to food and drinks, the venders had good customer service and were organized as a team.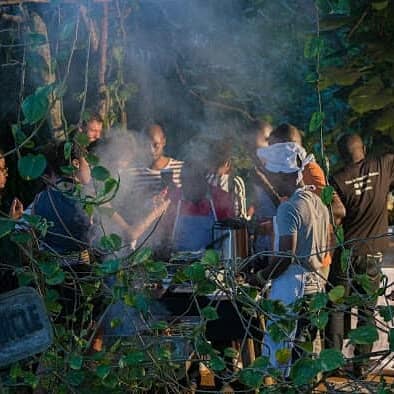 Having the Ngalabi Festival at Maisha garden was the right choice, people managed to show up in big numbers. Especially on Sunday we had more than 200 people! The feedback from the audience as well as the visiting filmmakers was fantastic. The festival helped in promoting the directors and identified filmmaking as an important aspect to society. The recognition was lovely and the film makers appreciated the effort. Many thanks to everyone that made it a success. Surely looking forward to the next Ngalabi Film festival in 2021 – See you there!"