AZULATO POSTPONED DUE TO COVID-19 | Statement from the Cultural Department on 20th March 2020:
We are adhering and supporting the Government policies and practices to stem a spread of the COVID-19 in our country. Due to these circumstances, with a very heavy heart, we have decided together with Mengo Senior School to postpone Azulato Children's Festival 2020, which should have taken place on April, 26th. At this point in time, we cannot assure that we will be allowed to hold the festival and as health and safety always come first – a festival with several thousands of people cannot take place in April. We are planning on rescheduling it to another month later in the future, once the situation is clearer. We will keep you updated and inform you once we have more information.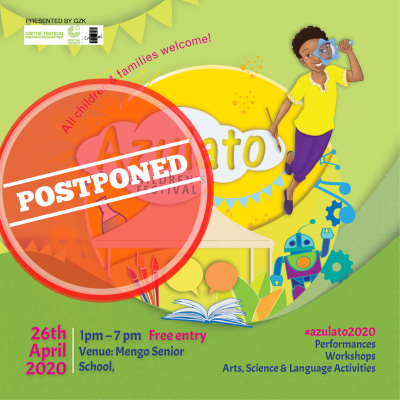 About Azulato Children's Festival
The Azulato Children's Festival is a one-day event that takes children into a whole new world of artistic and scientific experiences. Curiosity is the biggest potential of a child's early years. Therefore we provide a fun and creative learning environment with interactive hands-on-activities, workshops and performances to awaken and nourish our children's appetite for art, science, and language. The third edition of Azulato, after being invented in 2018, was supposed to take place on the 26th April 2020 at Mengo Senior School.
We believe that innovation derives from creativity, and that independent and constructive thinking can best be achieved through active experimentation. Our festival engages children in various activities and encourages them to express their creativity and to discover science mechanisms. As one African proverb goes, our best seeds and our most fruitful fields are our children. Let's support them in growing their talents and self-confidence!
Organized by the Goethe Zentrum Kampala/Uganda German Cultural Society, Azulato is a marriage of two Luganda words "okuzula" meaning "to discover" and "abato" meaning "young children", hence Azulato signifying childlike enthusiasm for discovery.
Azulato Children's Festival is an inclusive festival for all children regardless of background and differences in abilities.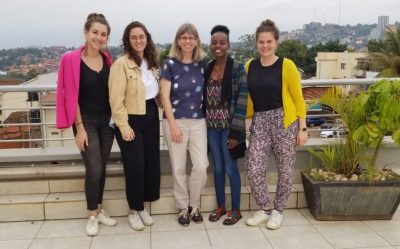 Meet our Azulato Team 2020! Barbara is the current director of Goethe-Zentrum Kampala and responsible of the general overview of the festival, Sanna, responsible of the communications is the Project Manager of the Cultural Department of GZK/ UGCS, Sina the Project Assistant is co-responsible for coordinating the workshops, activities, and performances. Anni and Yvonne are both interns in the Cultural Department of Goethe-Zentrum Kampala and work on social media communication and the vendors' coordination.
Make sure to join us on Facebook!